Friends, many a husbands have gone through the un-envious situation of having to deal with a wife who has dragged them to CAW cell/mahila thana, to police, or filed cases like DV/CrPC 125; and if that was not enough, later she proclaims that she wants to come back, or even files an RCR (restitution of conjugal rights) petition on husband in family court. I have already outlined in this post in some detail on how to handle such now-I-hate-you-now-I-want-you type of wife.
But I have realized that the "thanks but no thanks" approach is not working out for many husbands, who want to give one more chance to wife (or to marriage) to come back and make their life into the promised heaven that it was supposed to be when they got married. For such husbands, these are the brilliant or not so brilliant approaches considered by them:
Ask wife to give in writing that she will not file any false cases in future. What a joke? Read this post to understand in detail why it is not legally possible to stop wife from filing cases in future, no matter whether she signs an affidavit on stamp paper in presence of whole panchayat/samaj/jamat or any number of witnesses.
Create some conditions on wife for her coming back. E.g. she will not talk to her parents (why?, is she your slave now?, because that's what she will allege in her next complaint), OR e.g. a condition that she will live with your parents peacefully (again, a future commitment which can't be legally valid since she can always blame your parents as the culprit).
To my mind there is one really strong and somewhat safe (there is nothing 100% safe) way in which such wives can be allowed back if they fulfil this condition. So without much ado, here is a sample of public apology in newspaper given by one such wife for having filed false 498A on husband earlier. It's in Marathi and the words like false case, defamation of husband/family, proven innocent, asking forgiveness etc are mentioned clearly. Interesting thing is that wife's mother and father are also seen as co-apologists number 2 and 3. What I like about that is that it will make the usual defence of women that they were forced to do XYZ much more difficult, since it's very difficult to believe that a woman, her mother, and her father — all three were forced to make an apology at gunpoint, and a newspaper apology, no less, at that.
Apart from above, there are hardly any real life cases to draw conclusions upon, but I state my reasons below why a newspaper apology is 10 times better than anything else like signing an affidavit etc:
Any document of admitting to her faults signed by wife is always refuted by her to have been signed under coercion/threat, and our society is ever willing to believe in any damsel in distress stories of such abla-naaris. Even if judge gives some consideration to such a document, for reasons stated in this post, there is never any safety from future false cases by wife, which is what bringing-back-my-wife-husbands are hoping for.
While they can allege the same argument that they were forced/coerced to give a newspaper apology, it is very difficult to believe unless they are able to prove that someone was standing behind them with a knife on their throat or a gun pointed at their head in newspaper office; because unlike signing a document in presence of witnesses, to give a newspaper apology one has to actually head to a newspaper's office and submit the content and pay the advertising fees etc. Payment of advertising fees also makes the story of force/coercion much more difficult to believe.
Generally such toxic women and in-laws are quite shameless and they don't care about what society will think etc, and so signing a private document is like a worthless piece of paper for them. But a public apology is a totally different matter, since by making it they will be admitting to potential lakhs of readers that they are the ones at fault and they will make attempts to rectify from now on.
For a usual case of a husband at receiving end of such toxic females and in-laws, only a newspaper apology can be a sufficient measure to make amends for damage done to their and family's standing and respect in society, not to say the mental harassment caused.
Just like a marriage ceremony which is done in public, a newspaper apology can be a second chance at public declaration of attempt at re-unification, by of course admitting of past wrongs by the guilty party which is the wife and parents.
A newspaper apology will be a self-admittance of past wrongs by wife, and even if she files false complaints again, her past wrongs at least will be there to be shown in front of judges/police etc this time, which is not possible by showing the almost useless signed documents which are ignored by police/courts etc. They will be under psychological pressure since trying same tricks of shaming and defaming husband/in-laws among relatives etc could easily backfire with evidence of the newspaper apology in hands of husband and his parents.
It would be good to place the apology in one largest local newspaper (for viewership of common janata) and one largest English newspaper (for future showing to patha-likha court and advocate types) .
Now, one person pointed out that newspapers' advertising departments may not usually check identity of person placing an advertisement, so that could be a potential excuse by offending wife party to possibly even deny that the newspaper apology was placed by them. In fact, going by their usual blame shifting and projections, they may suggest to court/police later that the newspaper apology was in fact placed by husband party in the newspaper but using name of wife and party!
To avoid this scenario, we suggest to have an affidavit too signed by wife and party that they will place the apology in so and so newspapers by so and so date, and the exact content of the apology (like in sample below) can be put as part of the affidavit itself. It may seem like circular argument, that we started with disadvantages and uselessness of affidavit/signed paper, and are now again coming back to suggest to have a signed affidavit by wife and party. However, by now we have added a great/crucial thing to the whole mix now called the newspaper apology. This time the affidavit is more like a supporting document to avoid scenario of wife party backtracking in future from having anything to do with the published newspaper apology.
Now that I have explained the reasons why newspaper apology can potentially be most useful and should be necessary condition to take such wife back, let me give a template below (use at own risk and do modify it) for our Google search and template hungry generation, because they won't settle at anything less than that (and maybe won't do anything unless a readymade template is available, that's the sad part)!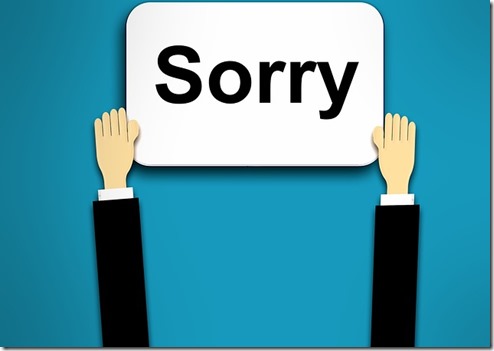 Public apology
I, shrimati false DV case, CAW cell dragger, aged xy years, daughter of shri xyz (only father's name will do because we are patriarchal

), state that I had filed false cases of xyz, made false allegations to police/court etc, against my most respected husband shri InnocentHarassedHusband, aged abc, and his parents shri abc and shrimati def, residing in city xyz, and have needlessly harassed, defamed, and dragged them into these false cases due to my own egoism, narcissistic nature, and reckless behaviour.
I hereby make this unconditional apology that I am deeply sorry for having filed false complaints and allegations and for defaming them. By this public notice I make a commitment that once taken back into my husband's home/their home as wife/ daughter-in-law, I will not make the same mistakes again, and would attempt to be a good wife/ and daughter-in-law.
Place: Date:
Apology asked by:
shrimati false DV case, CAW cell dragger
shri xyz (father of wife)
shrimati abc (mother of wife)
Address: