One thing which I have maintained is that if our Supreme Court gives one judgment which seems to be favour of husbands, it will be followed within 6 months with another judgment which will remind them their due role within the family; which was eloquently put once by ex-Justice Katju's in SC:
A vacation bench of justices Markandeya Katju and Deepak Verma observed, "Bibi joh boltee hai woh sunno (listen to whatever your wife says), as otherwise it could land you in trouble. Because if you do not listen to her, you will suffer the consequences."

"Hum sab bhogi hai (we are all sufferers)," the bench said in a lighter vein.
Now the current news story says that SC is unhappy that husbands are becoming 'adamant' in face of 498a complaints by wives.  Their main grouse is not that a false 498a case is filed, but their grouse is the husbands are not taking back the wives!
http://timesofindia.indiatimes.com/india/False-cruelty-cases-under-Section-498A-ruining-marriages-SC-says/articleshow/45424532.cms
Dismissing a woman's petition, who had appealed against a trial court's decision not to permit her lead evidence against the two brothers of her husband, the CJI said, "There is an increasing hardening of stand among husbands, whose parents had been arrested in false 498A cases, not to take back the wife. They say they are willing to give her all the property, they will take care of the children's education and marriage but will not take her back."

The CJI added, "They take a plea before the court that they may have committed a mistake but for that punishing their old parents on a false complaint was not condonable. The false complaints under Section 498A are ruining marriages."
Whoa!  wait a minute, who is giving all the property to wife?  Only some scared husbands maybe.  The 'adamant' ones don't compromise with 498a wives, come hell or high water.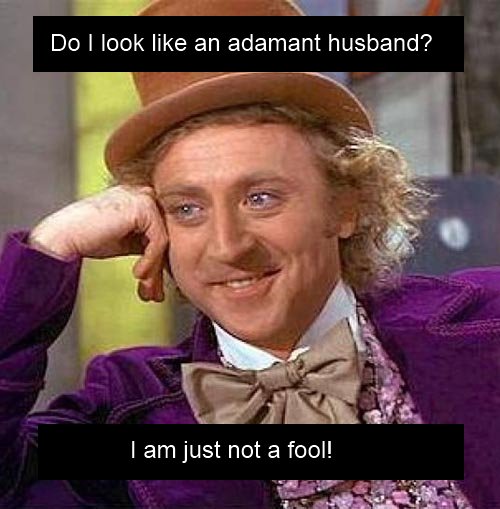 As usual, the SC bench's observations are equivocal.  On the one hand, it says all 498a cases are false, and in the same sentence it says that we are not giving innocence certificates to in-laws of wives!
When the counsel said the court's observations might be true in some cases, the bench retorted, "It is true in most cases." But the court was quick to clarify that it was not giving a certificate to erring in-laws.
So here are the learnings from this latest judgment:
If you take back a 498a wife, you will surely get the 498a case filed again second time, and next time the same courts may deny bail saying: "why did you take back 498a wife the first time?"
If you don't take back the 498a wife, you will be branded 'adamant'.  Glad that Supreme Court has come out categorically and clearly that all such husbands are 'adamant' in their eyes.  Better be adamant than a fool.
Don't get your hopes raised by any judgment by Supreme Court about misuse of 498a or other women oriented laws. These laws are here to stay for a long, long time unless people get together and do activism.  Fighting own cases will not let the System aware of anyone's pain, because men are effectively the disposable gender to them.
Many men are given to asking THE QUESTION: "How to safeguard myself or parents?".  There is no way known to safeguard from false complaints, except by not marrying at all.  One cursory reading of above news is enough to let anyone with common sense know that.