Just a decade or so earlier, it used to be commonly mentioned in anecdotes about some foreigners preferring to marry Indian women since they are supposedly family-oriented and submissive, meaning they may not file for divorce or force husband to go through other trauma western women are becoming famous for.
Well, times change.  If anyone has been following the news here are some stories in India of women taking foreign origin husbands to the cleaners and to the courts.
Famous Pakistani singer Adnan Sami who usually resides in Mumbai, India has been embroiled in Domestic Violence (DV) cases filed by his second wife and there was news recently of Mumbai High Court granting order of relief to her ex-wife to his apartment.
If that was not enough, his attempt to get an Indian passport is being hampered and one of the reasons being criminal cases filed on him (in India and under Indian laws) by his ex-wife.
http://articles.timesofindia.indiatimes.com/2013-05-15/mumbai/39280546_1_adnan-sami-foreign-exchange-management-act-criminal-cases
There is another horrifying case of treatment meted out to French citizen Pascal Mazurier who was framed by his Indian wife of raping his own 3 year old daughter!  It is not proven yet that he is framed by his wife but such things are always a 'go-slow' for all investigative agencies, prosecutors, and judiciary.  After all, the supposedly clinching evidence of DNA was proven to not belong to him, but no one in the 'System' is in any real hurry to find out the real culprit.  It seems acting on wife's complaint and arresting the husband and keeping him in prison for few months was more important to them than finding out the real perpetrator of the crime of rape of a minor girl.
http://www.firstpost.com/tag/Pascal-Mazurier
Now we look at some of the laws foreign husbands thinking of marrying an Indian woman need to know about.  These are:
1. The famed IPC 498a (commonly referred to as dowry harassment law) under which more than a 100,000 cases are filed every year and a few hundred thousands Indians every year are arrested merely on complaint by wife since it is a non-bailable and cognizable offence.  This is a criminal offence with maximum punishment of 3 years.  The conviction rate according to National Crime Records Bureau (NCRB) data is only 7% or so so basically it is a tool of extortion and harassment.
IPC 498a has achieved international notoriety so much so that several countries like US, Canada have issues travel advisories to their citizens to be careful about being trapped in false marital cases in India.  Here is a screenshot from Canada government's website about travel warning to Canada citizens.  That's just for benefit of those Westerners who think of MRAs as some crazed lunatics who are unaware of their own 'male privilege'.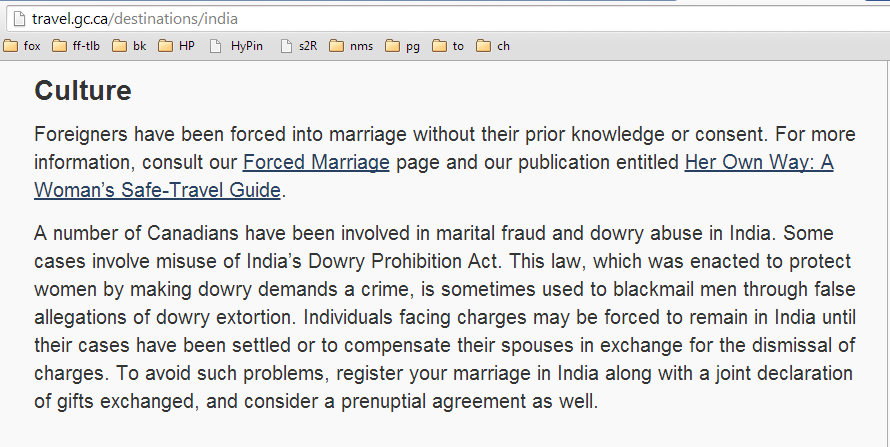 The only safety might be in marrying in your own country according to your own laws, but check with your lawyers.  Piece of advice: pre-nuptials have no validity in India even though mentioned in the advisory above.  So even a pre-nuptial may have validity only if marriage was in your own country.
2. Protection of Women from Domestic Violence Act (PWDVA), 2005 which is routinely used by women to throw the husband out of the house, get exclusive access to children, and demand maintenance (monthly pension for no work) for the rest of the marriage duration.  It is similar to domestic violence laws of many other countries save for the fact that only women (read wives) can ask for relief under the Indian law.
So any foreigners who marry an Indian woman even if in a foreign country but then reside in India for a period of time, then the jurisdiction of Indian laws will apply on such foreigners and they are liable for both civil and criminal cases filed by their wives under Indian laws.
What is not so clear to me — because I haven't delved into this aspect in any detail as I am not a full time lawyer
— is the question of personal marriage or rather divorce laws which will be applicable.  These will be important in case of a divorce filing which I believe has to be done under jurisdiction of the country where the couple are married, but is also possible in another country should both the parties agree.  So my guess is that although an Indian wife cannot force a divorce application on foreigner husband but she can definitely use the weapons like IPC 498a and DV Act as extortion and war tactics to force him to part with more than she deserves.
Also, it is to be noted that none of marriage laws in India have any concept of pre-nuptial agreement so any such agreement will have validity only in its original jurisdiction.