From time to time, the corporate businesses keep coming up with anti-male advertisements, and both these advertisers and the 'creative' agencies behind it are doing it with much glee – hoping that more and more males will be only be too eager to embrace the neutering of their masculinity and pride in any male accomplishment.  This is because the zeitgeist demands that any middle or upper-middle class male must compete in this race downhill to mock and demean other 'samples' of failed manhood – to gain approval of the rising gynocracy in society, to show their support towards fake feminism, and to increase their women empowerment credentials – because those are fast becoming the means to achieve higher status in society.
Usually, such anti-male advertisements, be it regarding a detergent brand, or a paints brand as seen recently – lead to an initial outrage in public, and the social media is abuzz with it for a few days.  However, the outrage dies down within a few days, the mocking of men and the insults are forgotten; maybe because people hope that such advertisements will not lead to a permanent damage in society, or the evergreen excuse that "What can I alone as a single person do?".  Both of these are incorrect assumptions – such advertisements (and other negative portrayal of men) in Western nations have already made their menfolk to be shown as buffoons, inept and incompetent in doing basic household jobs, and in general they end up being saved by a female, of course with aid of a branded product – which is being advertised.  As regards second assumption, this article will explain how a single person can take action against such complaints.
Now, many people are not aware that there is a body which takes complaints from public regarding misleading advertisements, or other complaints about them. It is called Advertising Standards Council of India.  See below news about their actions against misleading advertisements against which complaints were made:
https://www.newindianexpress.com/business/2019/may/22/advertising-standards-council-of-india-upholds-complaints-against-229-misleading-advertisements-1980454.html
MUMBAI: Advertising sector watchdog ASCI upheld complaints against 229 misleading advertisements in March this year, including those of NIIT, Amul, Colgate, Tata Motors and Maruti Suzuki.

The Advertising Standards Council of India (ASCI) examined complaints against 344 advertisements, of which 74 advertisers ensured prompt corrective action, a statement said.
Most of the complaints mentioned in news above are about misleading advertisements, or exaggerated claims in advertisement, or about unverifiable claims being made.
Even a government body like FSSAI has given a suo moto monitoring mandate to ASCI to process complaints against misleading F&B advertisements.  See below:
https://fssai.gov.in/cms/advertising-standards-council-of-india-asci.php
FSSAI had signed MoU with ASCI for the year 2016-17 which was subsequently renewed w.e.f. 13th Feb, 2018. ASCI comprehensively monitor cases of misleading advertisements in the Food and Beverage sector (F&B) across various media and have been given a suo moto monitoring mandate by FSSAI to process complaints against misleading F&B advertisements. MoU also requires ASCI to report to FSSAI non-compliance of ASCI's decisions for further action as required per provisions of FSSAI Act.
So it can be seen from above that ASCI is not a toothless body, or one just for cosmetic purpose.
The complaint can be filed online using their form, or by sending details on their dedicated WhatsApp number mentioned on website.  The following screenshots give an idea of how complaint can be filed with them. Note that the text boxes for complaint allow 5,000 words – however it is not convenient to write in long text in a small textbox of online form.  So it is advisable to type and save the complaint in a document separately, and then copy and paste that text into the online form.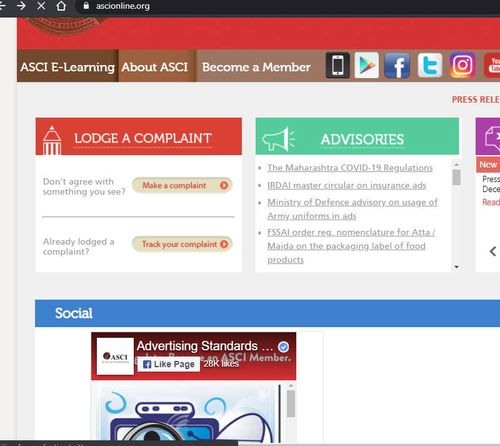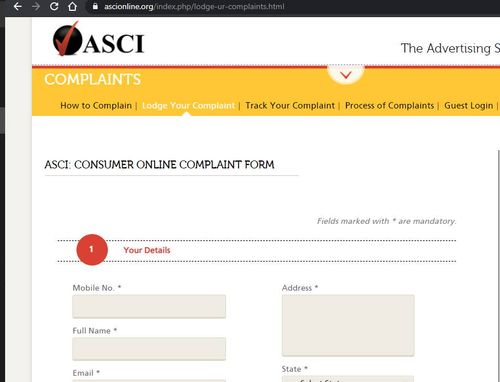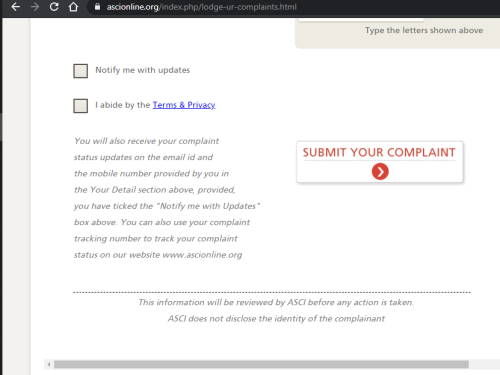 Complaint via WhatsApp to Advertising Standards Council of India
The WhatsApp number below can also be used as an alternative mode of sending complaint against an advertisement.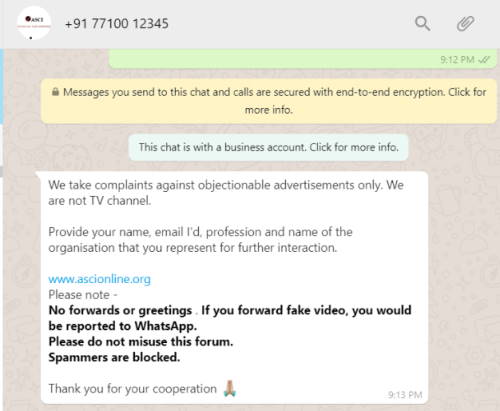 Note: I have found the website to be somewhat flaky. E.g. it provides a very basic interface if opened on a mobile. So I would advise to do it on a laptop screen, or via WhatsApp.
Given that it is fairly straightforward to file complaint against an objectionable anti-male advertisement, everyone who has an objection about an anti-male or misandric advertisement could use the above modes of complaint to file a complaint. A bit of caution though: keep your complaint very specific to the advertisement at hand, and the objections you have about it. There is no need – and in fact it may be counterproductive – to rant about misandry in society, about false DV/498A cases, how many women are doing legal terrorism, and so on. The ASCI is an advertising standards body, so you should stick to relevant points only, and telling them the backstory about your opinions or beliefs is neither useful nor productive.