http://m.bhaskar.com/news/referer/521/JHA-MAT-latest-kodarma-news-023003-1353279-NOR.html?referrer_url=http%3A%2F%2Ft.co%2FjHbEzmfTbX
जेल में बंद युवक का अनशन जारी, स्वास्थ में आई गिरावट
Bhaskar News Network | Feb 15, 2015, 02:30:03 AM IST
दहेजप्रताड़ना मामले में जेल भेजे गए गिरिडीह के बरगंडा निवासी सुजीत कुमार द्वारा पिछले 11 दिनों से अनशन पर रहने के कारण उनकी हालत बिगड़ती जा रही है। अनशन के बाद से ही जेल प्रशासन ने उन्हें सदर अस्पताल में भर्ती कराया गया है, जहां उन्हें नियमित रूप से स्लाइन चढ़ाई जा रही है। मगर अन्न नहीं ग्रहण करने के कारण उनकी हालत दिनोदिन खराब होती जा रही है। शनिवार को एसडीओ लियाकत अली ने सदर अस्पताल में उनसे उससे अनशन समाप्त करने की अपील की। मगर सुजीत ने कहा कि न्याय मिलने तक अनशन जारी रखेंगे। उन्होंने अपनी बेगुनाही की बात दुहराते हुए कि उनकी प|ी द्वारा उनपर झूठा मुकदमा दायर किया गया है।
Above news is dated Feb 15, 2015. It says that Sujit Kumar (resident of Giridih) who was sent to jail being accused in case of dowry harassment is on hunger strike for last 11 days and his condition is deteriorating fast. The jail administration has got him admitted into Sadar hospital, and saline drip is being administered. But because of not having food, his health is deteriorating day by day. On Saturday, SDO Liyakat Ali met him in Sadar hospital and requested him to stop his hunger strike. But Sujit has said that until he gets justice, he will continue with his hunger strike. He reiterated that he is innocent an his wife has foisted a false case on him.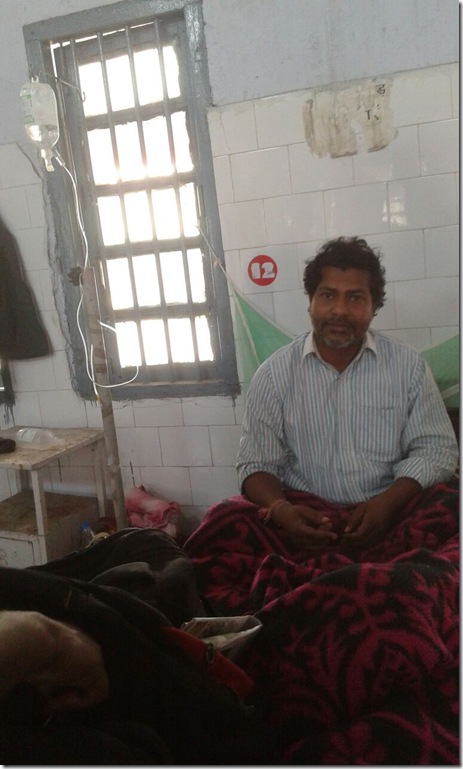 A recent photo of Sujit Kumar Singh
According to this judgment of Jharkhand high court on Jul 7, 2014, Sujit Kumar was denied anticipatory bail by the high court on 7th Jul 2014. However, the judgment does mention reference to Arnesh Kumar Vs. State of Bihar & Anr SC judgment of Jul 2, 2014, which means that within 5 days of SC judgment, the high courts of the country were aware about it and instructing trial courts to follow it too.
The learned A.P.P. appearing for the State opposes the prayer for grant of anticipatory bail and submits that on 30.04.2014 the learned trial court had ordered issuance of process under Section 82 Cr.P.C.

In view of the above, I am not inclined to entertain his application seeking grant of anticipatory bail.
However, since this Court has not expressed any opinion on the merits of the case, if the applicant appears before the trial court and seek grant of regular bail, his application would be decided on its own merit and without being influenced by the dismissal of the present application. It is further ordered that the learned trial court while deciding the application on behalf of applicant would keep in mind order dated 02.07.2014 in "Arnesh Kumar Vs. State of Bihar & Anr." , in Criminal Appeal No. 1277 of 2014 [SLP (Crl.) No. 9127 of 2013] wherein, the Hon'ble Supreme Supreme Court had issued several directions in so far as arrest in offences for which maximum punishment is seven years is concerned. It is further ordered that if any application, with clear two days' notice to the A.P.P. and the counsel for the complainant is moved in the trial court, the same would be decided by the trial court on the same day, keeping in view the fact that the complainant does not want to stay with her husband.