Usually some MRAs feel sense of delight when a false sexual harassment or 498a/DV case gets filed against the godfathers in Indian society: the police, judiciary, politicians etc. The idea being that once these godfathers feel the heat of false cases, they just might do something for the aam-aadmi and mango people of the country.
http://timesofindia.indiatimes.com/city/mumbai/Rape-allegation-against-Maharashtra-top-cop-Sunil-Paraskar-is-for-publicity-Models-ex-lawyer/articleshow/39690642.cms
MUMBAI: In a new turn to the rape and molestation case against IPS officer Sunil Paraskar, a former lawyer of the alleged victim, a model-turned-actress, has said she never told him about the rape and claimed she brought up the charge to gain publicity to enter a reality show.
Below is video on YouTube by a news channel which shows the conversation between accuser and her previous lawyer. The false rape accuser is asking for bad publicity instead of harassment, but little does our princess know that in today's social environment and media, even if you allege a man stared at you in a certain way, an IPC 376 might just be on the plate!
https://www.youtube.com/watch?v=yx4i7v81hQY
Model's former lawyer Rizwan Siddiqui said he quit the case as he got the feeling that the case was filed for publicity.

"My client (model) kept changing her statements. She didn't share entire information with me. I got the feeling that client was filing case for publicity. So, I backed out of the case," he said.
As regards the former lawyer, based on the conversation in the video, it is extremely doubtful if the woman has been victim of a crime or a civil wrong. You don't talk about media and bad publicity when you have been wronged, you approach police or civil courts!
In the CCTV footage, authenticity of which India Today cannot confirm, the model and the lawyer were seen discussing the case. The model was apparently talking to the lawyer about creating a big controversy so that she is chosen for a reality show that features controversial people as contestants.

The model in the footage was also seen as saying that she wanted to harass the officer. She also wanted to defame Poonam Pandey.
The whatsapp messages leaked by another news show the intentions of this model:
http://zeenews.india.com/entertainment/celebrity/zee-media-exclusive-whatsapp-chat-reveals-all-in-dig-paraskar-case_159564.html
On July 10, 7:40 am, the model messaged Rizwan, expressing her displeasure over casting of a popular reality TV show, for which she along with Poonam Pandey are reportedly vying. She wrote, "Sunil Paraskar is not replying, now he will be off on a vacation. The casting for the TV show has started already. Either she will be taken in or me. We both can`t be offered the show, as we fall in the same category. For past two years, both of us have been getting dropped at the last moment. Let`s see what happens this year."

On July 14, 9:04 pm, the model says, "We can`t really file any case against Paraskar. Suppose, if I say that there is an affair between Paraskar and Poonam. And if I leak the email conversation that I had with him over this thing, can he file a case against me?"

On July 15, 10:14 am, she messaged, "Call me whenever you get free. I have to push this news fast."

The model had last chatted with Rizwan on July 21 and not even once `rape` was mentioned in her messages. It was only after the lawyer excused himself from the controversial case, the model in the last week of July decided to come up with the rape and molestation charges bid against the DIG.
The case may not be over yet, but as I say whenever a woman says that she was raped over a period of few months and few years, unless she has been enslaved or trafficked, it is bound to be a false rape case.
So someone in this case got bad publicity. It is a man Sunil Paraskar whose name was thrown all over media and the women empowerment waalas, the candle holding crowd, and the official women protector agencies like Maharashtra state women commission got active demanding things like suspension of the IPS officer pending investigation of the case. E.g.
http://www.thehindu.com/news/cities/mumbai/suspend-rapeaccused-dig-paraskar-demands-maharashtra-state-womens-commission/article6280308.ece
The Commission also raised apprehension about Mr. Paraskar's reasons for denying to undergo a lie detector test. Mr. Paraskar had told a Mumbai court recently that he will not be unable to appear for a lie detector test as his medical condition does not allow him to do so. He had claimed he has undergone a bypass surgery, making it difficult for him to give the test.
Let's see. The person who alleges "I was raped over a period of few years", does not undergo any lie detector test. Her identity is a closely guarded secret and it is required by the law too. But the man's reputation is destroyed terming him as 'rapist'.
All these so called technical rapes are basically an affront to genuine rape victims, and the genuine cases and convictions are disappearing fast given rise in false rape cases after the Dec 16, 2002 Nirbhaya case. The Hindu has recently published an excellent study of rape cases in Delhi – the false rape capital of India.
http://m.thehindu.com/news/cities/Delhi/rape-cases-scripted-firs-fail-court-test/article6268958.ece/
The Hindu found that one-fifth of the cases were wound up because the complainant did not appear or turned hostile. Of the cases fully tried, over 40% dealt with consensual sex, usually involving the elopement of a young couple and the girl's parents subsequently charging the boy with rape. Another 25% dealt with "breach of promise to marry". Of the 162 remaining cases, men preying on young children in slums was the most common type of offence.
The ostensible reason given for registering every such complaint as rape under IPC 376 is that if it is not done, it will discourage other victims to come forward! Seriously, when the rape conviction rate is only 23% in Delhi in 2013, and news like this one are being shown on TV 24X7, why would a genuine rape victim feel encouraged to come forward, when she realizes a good chance of being treated as one of the other 77%!
Some in media have got the sense to question the wisdom in blindly believing every reported rape case to be like the Nirbhaya episode.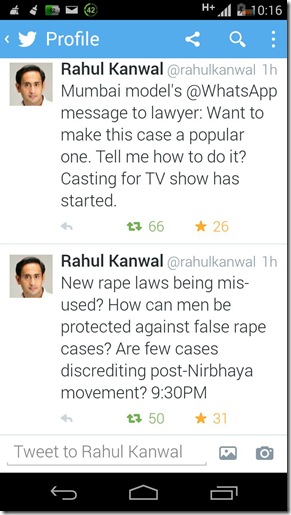 As a first, the name and photo of this model should be made public. This is a must to protect all men in future who might come in contact with this unscrupulous criminal woman.
This model (and her previous lawyer) should be investigated and prosecuted under relevant provisions of IPC in trying to get a man punished by filing a false case. Such provisions exist in the criminal law but are rarely used in India, and against women especially. It has already been done in several false rape cases as outlined in my earlier article. The time has come to send a strong message to the people who want to use rape as an extortion and enrichment tool.